You should always have a backup.
Your shop could be damaged by everything – malware infection, crazy developers, hosting problems etc. But if you have an up-to-date backup, then you are safe.
In order to make a complete backup of your site, you need to create a backup of files and a backup of database.
If you have an access to some hosting control panel, then you can use its tools for backup creation. For example, in the ISPmanager panel you can find it at page "Backup plan management".
Also you can use a special PrestaShop module for backup. Take a look at this one: http://presta.site/prestashop-modules/17-prestashop-backup-pro.html. It allows you to create both files backup and database backup and easily restore them.
But if you don't have any special tools, it is possible to go without them.
1) Files backup
PrestaShop doesn't offer any tools for making backup of site files, so you have to do it by your hands.
The easies way is a downloading of all files by FTP. Download them, make an archive and copy it to a safe place. It could take a lot of time, but it will definitely work on any hosting.
Basically, site files are changed pretty seldom (of course, if your site is not in development) and so you are not required to create a backup of files very often.
2) Database backup
PrestaShop has a tool for creating database backups. Go to your Back Office: "Advanced Parameters -> DB Backup".
That page look like this: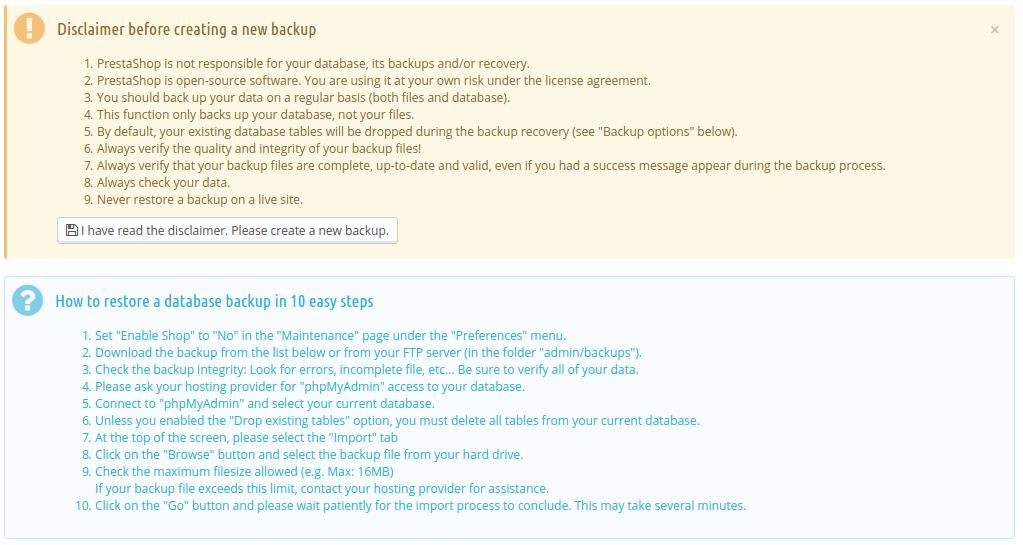 You have to agree with disclaimer by pressing related button. After that the backup creation will be started.
The restore process is described at the same page. Usually it is performed with PhpMyAdmin.
Database backup should be created frequently, because database contains all shop data – orders, customers, products etc. The more often you create backup – the safer your data. The best practice is using auto backup. PrestaShop doesn't offer auto backup, but you can use a special backup module.
It is better to keep your backups in a safe place. (And the PrestaBackup module allows you to store backups on your Google Drive).