One of the powerful features of PrestaShop is the Multistore (or Multishop) option – a feature that allows you to manage multiple online shops from a single Back Office. In this article, we'll explore this feature and provide a detailed guide on how to use it effectively.
Understanding Multistore
The Multistore feature in PrestaShop is a comprehensive tool that allows businesses to manage multiple online shops from a single back-end interface. This is a significant step forward in efficiency and organization, as you can manage multiple e-commerce stores, each with its own domain, products, customers, orders, and much more, all from one dashboard.
The Multistore feature is especially beneficial for businesses that have multiple brands, shops in different regions or languages, or a combination of B2B and B2C stores. By using the Multistore feature, you can streamline your operations and reduce the complexity of managing multiple standalone e-commerce sites.
Enabling Multistore in PrestaShop
To take advantage of the Multistore feature, you first need to enable it in your PrestaShop admin panel. You can do this by navigating to the "Shop Parameters >> General" page and activating the "Enable multistore" option.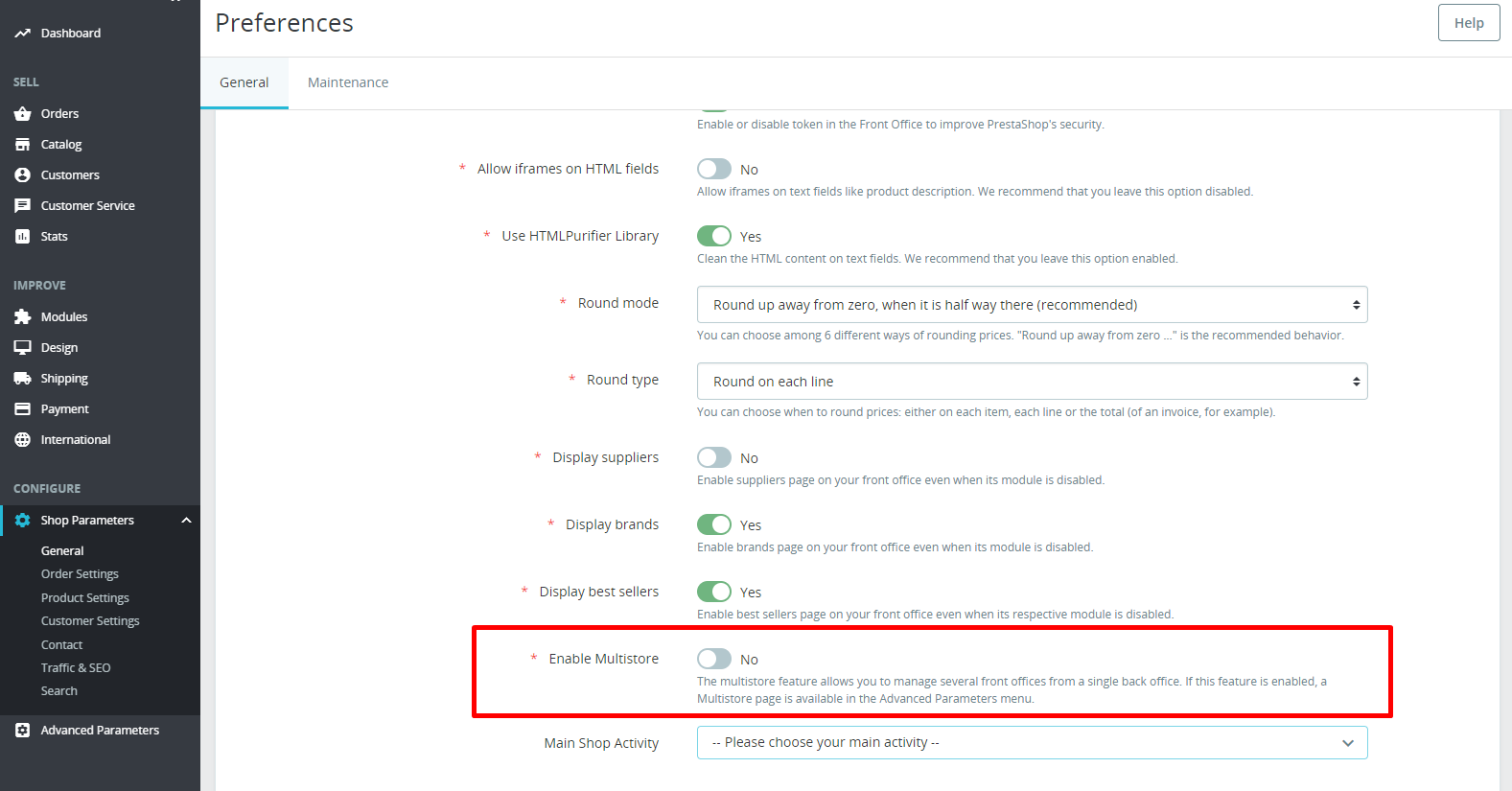 By activating this feature, a new option labeled "Multistore" will appear in your advanced parameters menu. This is the central hub from which you can manage your different stores.
Working with Multistore in PrestaShop
Once you've enabled the Multistore feature, setting up a new store is relatively straightforward. From the Multistore page, click "Add a new shop". Here, you'll have the option to define the shop's name, select the shop group it belongs to, and set the URL for the new store.
Store groups are useful if you have a lot of virtual stores, they help you to organize them. They also allow you to share customers, orders and available quantities between stores. However, this can make store management too complicated and is not recommended.

One of the main benefits of the Multistore feature is the ability to customize each store individually. This includes different themes, modules, categories, products, carriers, and more. You have the option to choose whether each item should be applied to all stores or specific ones, allowing for comprehensive customization.
In terms of managing orders and customers, each store in a Multistore setup has its own individual orders and customers. However, you can view them all from your central dashboard, providing a clear and organized overview of your entire e-commerce operation.
Example: Managing Products in Multistore
With PrestaShop's Multistore feature, you have the flexibility to either share product information across all stores or customize it for each store. Here's how to manage products across your Multistore setup:
Accessing the Product Catalog: Just as always, first navigate to your PrestaShop dashboard and go to the "Catalog" section, and then select "Products". This will take you to your product catalog, where you can add new products or edit existing ones.
Switching Between Stores: If you're managing multiple stores, you'll need to select the store you want to edit products for. Use the drop-down menu at the top of the dashboard to switch between your various stores. Each store's catalog can be managed independently from the others.
Editing product information: When editing a product, keep the current shop context in mind. You can edit the product separately for each shop, for a group of shops, or for all shops at once. This applies to almost all product fields – price, quantity, availability, description, etc.

Technical Considerations
The Multistore feature is available from PrestaShop 1.5 onwards. However, its capabilities and features have improved with each new version. For a Multistore setup to work correctly, each shop must have its own unique URL, which can be a domain, subdomain, or a subdirectory of a main domain.
The PrestaShop 1.7.x series, in particular, made significant improvements to the user interface, making it easier and more intuitive to manage multiple shops. The series also introduced a more modern and user-friendly design.
Conclusion
The Multistore feature in PrestaShop offers an efficient and streamlined way to manage multiple e-commerce stores. However, setting up and managing a Multistore environment can be complex and requires careful planning and consideration. Always consider consulting with a PrestaShop professional if you're unsure about any steps in the process. With the right approach, you can leverage the Multistore feature to optimize your online business operations and maximize your e-commerce potential.