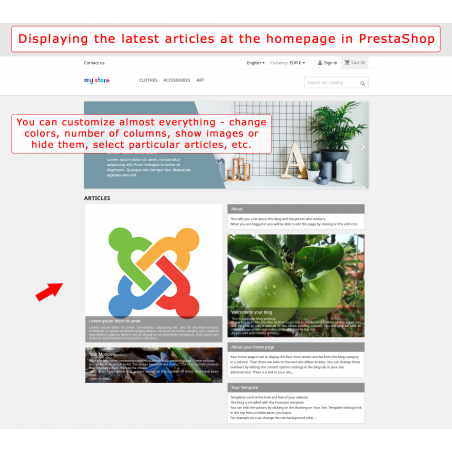  
Модуль Двусторонняя интеграция PrestaShop-Joomla!
PrestaShop 1.5.4.0 - 8.0
A module for two-way integration with your Joomla site. Allows you to display Joomla articles, categories etc. in your shop. 
Also can display PrestaShop products, shopping cart and search block in your Joomla site.
This module allows you to easily integrate your shop and Joomla! website and use the strengths of both systems. Joomla! is an excellent choice for working with text content, it has rich functionality and thousands of plugins for any need.
Such integration has a very positive effect on SEO and user experience.
This module allows you to display in your store:
articles from your Joomla! site, fully customizable, with or without featured images etc. They can be displayed on the homepage, at the product page, at the separate special page with list of all articles etc.
list of the Joomla! site categories
Full Joomla articles can be viewed as usually in Joomla or even directly in PrestaShop in your shop design.
Allows to display in your blog:
products (can be inserted into posts by a shortcode) - any selected products, products from some specific category, products of some specific brand, etc.
a shopping cart
a catalog search block
a separate "Add to cart" button (can be inserted into posts by a shortcode)
Full multi-language support:
this module is fully translatable
It allows you to connect to multi-language Joomla! site and display related articles when changing language in PrestaShop
it also allows you to connect to separate Joomla! sites for each language
Various options:
You can set number of articles to display, number of columns, choose specific articles and categories
Show featured images or article previews
Use masonry view and fill all the available space
Configure colors
Assign certain articles to selected PrestaShop products or categories
Display articles in different positions - for example directly at the product page, in the left column etc.
Other features:
compatible with Joomla! 3.0 and newer
uses caching to optimize the loading speed
a store and a blog can be located on different domains/directories
Характеристики
Версия

1.3.2

Поддержка PrestaShop

1.5.4.0 - 8.0

Язык

Русский, English, Français, Español, Deutsch, Italiano, Polski
Двусторонняя интеграция PrestaShop-Joomla!